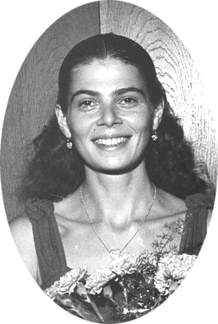 Nina Kogan was born into a family of two legendary violinists, Leonid Kogan and Elisaveta Gilels. She started studying the piano at the age of six, then attended the Central Music School for Gifted Children. Later she graduated from the Moscow Conservatory, receiving a D.M.A. with honors in the class of professor Flier.
Nina Kogan is a top prize winner of the M.Long Piano Competition in Paris.
She began concertizing at the age of 12. At 13 she started performing with her father, Leonid Kogan. Theirs grew into a unique collaboration that lasted almost 16 years until his untimely death in 1982. During these years she was the only pianist he ever performed with.
Nina Kogan performs a vast variety of chamber music and gives master classes all over the world.
She has recorded for Deutsche Gramophone, EMISony, Philips, Chant du Monde etc.


Write letter to Nina:
nkogan@aol.com
ninakogan@hotmail.com


Nina has performed with:

The Orchestra of Bolshoi Theatre
Moscow Philharmonic
Moscow Radio Symphony Orchestra
Moscow Chamber Orchestra
Leningrad Philharmonic Orchestra
Orchestra National de Paris
Dresden Philharmonic
Stockholm Symphony
Lugano Orchestra


Nina has performed on premier stages all over the world:

Carnegie Hall and
Avery Fisher Hall in New York
Concert Halls in Chicago,
Boston, Philadelphia,
Los Angeles,
San Francisco,
Detroit, Washington D.C.,
Hamburg Philharmonic,
Theatre Champs Eysees,
Mozarteum in Salzburg,
Moscow Conservatory and
St. Petersburg Philharmonic,
Teatro Colon in Buenos Aires,
Teatro fenice in Venice,
Teatro San Carlo in Naples,
in all the major halls in Japan.